Monitoring Software Awards
The software review and comparison site CompareCamp recently reviewed Downtime Monkey, and we're really pleased to have received awards for 'Great User Experience' and 'Rising Star 2018'.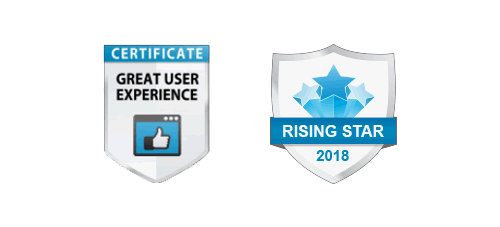 The CompareCamp review analyzed several important elements of Downtime Monkey. They considered the main features, ease of use, customer support and value for money. We're pleased to announce that Downtime Monkey impressed the review experts, with the website monitoring tool receiving an 83% overall rating.
It's great to have our hard work recognized, especially our efforts in delivering an outstanding user experience, which has been a top priority. From the start, our aim has always been to make Downtime Monkey incredibly quick and easy to use. This is why we're proud to be recognized with the Great User Experience award by a notable review platform.
The Rising Star 2018 award highlights Downtime Monkey's achievement in disrupting the website monitoring space last year. This award is also a recommendation from the review site that our app is considered as a reliable monitoring tool for alerting users to all instances of website downtimes.
To experience just how easy it is to use, sign up here and start monitoring your websites... in seconds.