Whitelist Email Addresses in Outlook
...for Office365 and 'Outlook for the web'.
In a previous blog post we answered the question: Why Whitelist an Email Address?
TLDR; "If you expect to receive important emails from a trusted email address it is worth whitelisting the address to make sure that emails won't be accidentally blocked by an overzealous email client."
Here we provide step-by-step instructions on how to do it in Outlook for Office365 by adding the email address to your safe senders list...
1) Check that you are using the web version of Outlook.
Outlook has had a lot of different versions over the years and Microsoft has managed to cause real confusion as to which version is which!
This article refers to the web version of Outlook which is known as 'Outlook on the web' as well as 'Office365 Outlook' and 'Outlook for Exchange Server'. Older versions were formerly know as 'Outlook Web App (OWA)', 'Outlook Web Access' and 'Exchange Web Connect'... we're not joking.
If the top left of the webpage that you are looking at is similar to the screenshot below, you are in the right place:

2) Select settings by clicking on the gear icon:

3) Scroll down and select "Mail":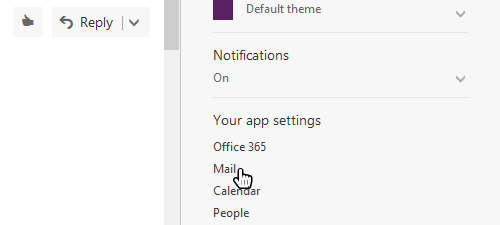 4) Select "Block or Allow" from the Options menu, under Mail > Accounts: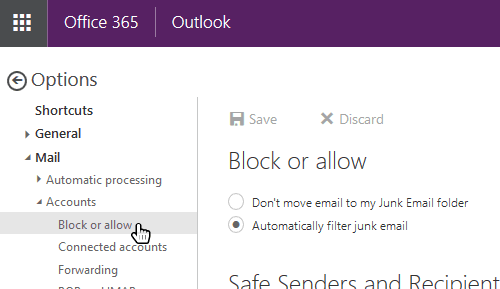 5) Add the email address that you want to whitelist to the 'Safe Senders and Recipients' field and click the '+' button. Here we have added monitor@downtimemonkey.com to make sure that a website downtime alert email is never missed: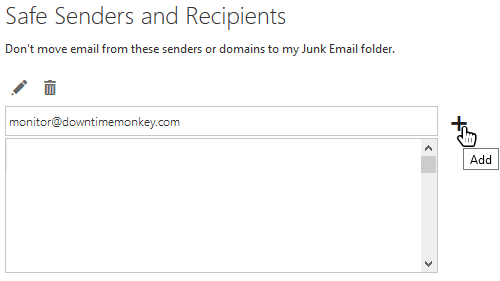 6) The whitelisted email address will appear in your Safe Senders list: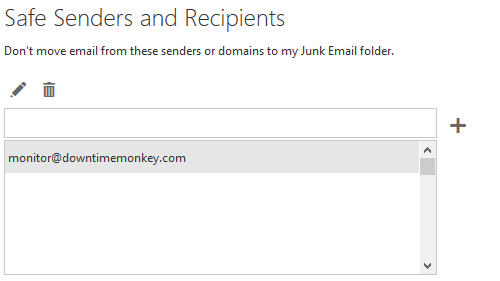 7) When you click away from the page you'll be prompted to save your settings: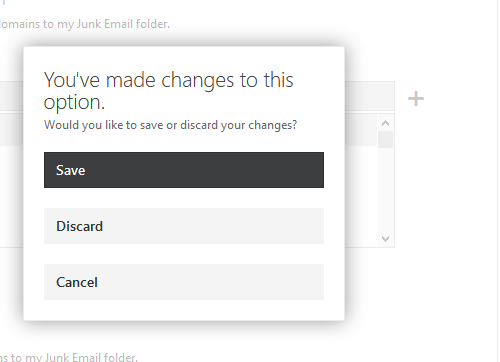 Whitelisting A Whole Domain
In 'Step 5' a single email address was whitelisted. It's also possible to whitelist all emails associated with a domain.
By adding downtimemonkey.com to the Safe Sender field instead of monitor@downtimemonkey.com we would whitelist every email address belonging to downtimemonkey.com.