Free & Pro Monitoring Compared
A few months ago we published a price comparison blog which compared every available website monitoring service on price. In this post, we ignore price completely and provide an in-depth feature comparison between Pro and Free services.
This post is intended to compliment our Plans page by providing a detailed comparison between Pro and Free features...
1) Monitoring Locations
Pro: 6 locations: Oregon, Montreal, London, Frankfurt, Mumbai, Sydney
Free: 1 location: London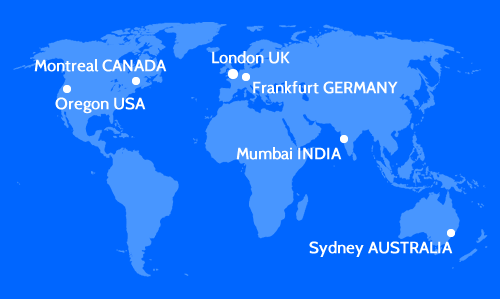 Pro Plan Locations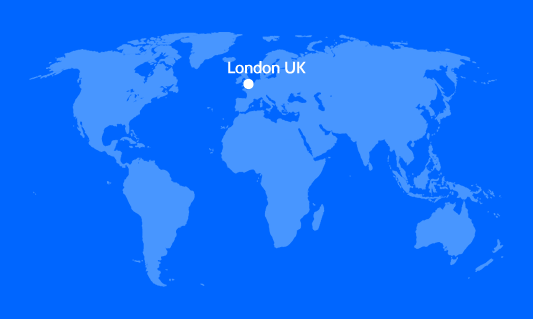 Free Plan Locations
Global Monitoring Explained
The main advantage of monitoring from multiple locations is the elimination of false positive downtimes.
Sometimes, a website appears down (even though it is actually up) because the network is down between the web server and the user that requests the site. This is a false positive downtime.
Pro monitors can be set to double-check all downtimes from servers around the globe ensuring that false positives are prevented.

Pro Advantages
Choose monitoring locations
No false positive downtimes
No false alerts
More accurate uptime stats
2) Uptime Stats & Downtime Logs
Pro:
Stats: 3 decimal places, 24hrs, 7days, 30days, 90days, 1yrs, 2yrs
Logs: all downtimes, start time, end time, duration, http code, explanation
Free:
Stats: 1 decimal place, 24hrs, 7days, 30days, 60days
Logs : not available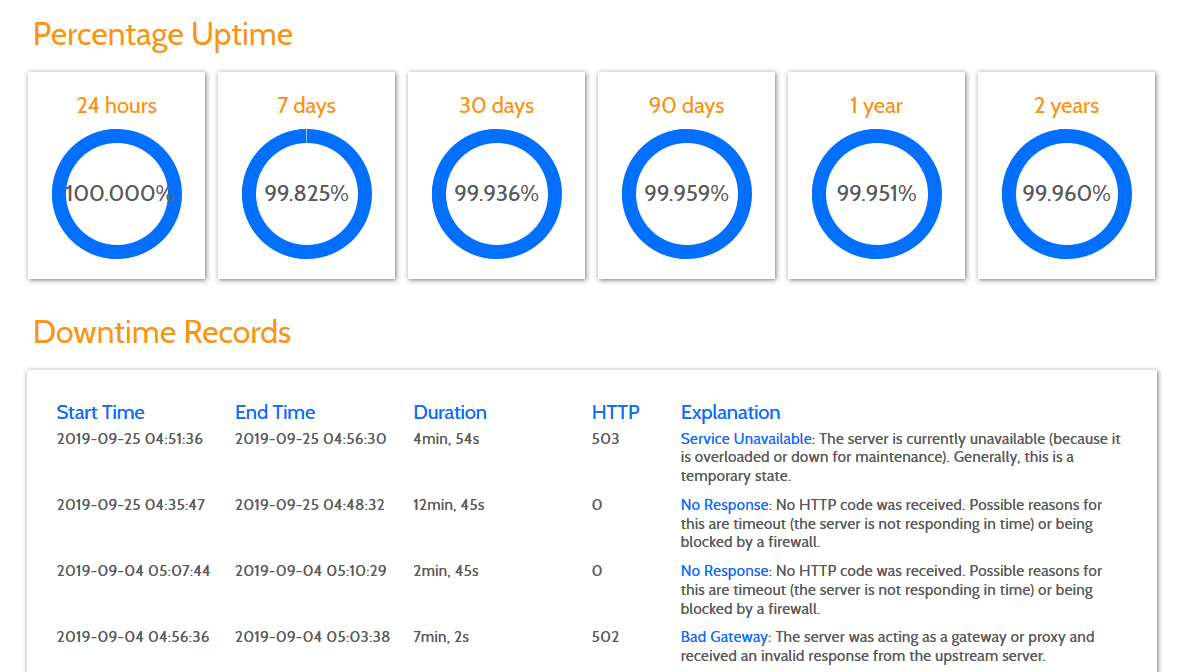 Pro Stats & Logs

Free Stats
Accuracy & Detail
Global monitoring (see above) means that Pro stats are incredibly accurate and uptime can be shown to 3 decimal places (e.g. 99.999%) while Free uptime stats are shown to 1 decimal place (e.g. 99.9%).
All stats and logs are kept for 2 years on Pro plans and every individual downtime is available, along with the reason for the downtime. This can help when troubleshooting server problems.

Pro Advantages
2 years of stats and logs
Uptime stats accurate to 3 decimal places
Every individual downtime is logged
View the reason for each downtime
3) Alert Settings
Pro:
Email: on/off, set alert time, choose email
SMS: on/off, set alert time, repeat alerts, choose phone number, rate limit
Slack: on/off, set alert time, repeat alerts, rate limit
Free:
Email, SMS, Slack: on/off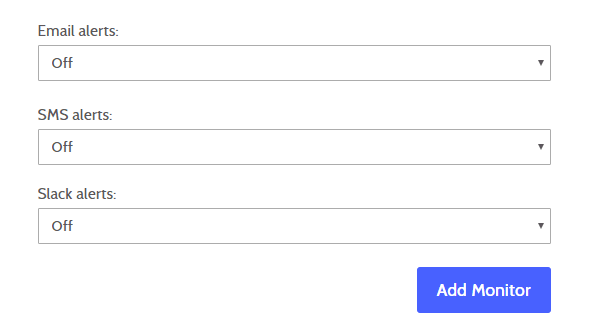 Free Monitor Settings
Tailor Your Alerts To Your Needs
Pro settings allow alerts to be sent when a site stays down for x minutes. This prevents getting alerts when a site goes down very briefly.
Rate limiting of alerts is available on Pro plans. This is a really useful feature for users who manage multiple websites on the same server - it prevents being bombarded with alerts if the whole sever goes down.

Pro Advantages
Flexible monitoring to fit your needs
Don't receive alerts for very short downtimes (unless you want to)
Limit the number of SMSs and Slack alerts per hour
Multiple email addresses and phone numbers in one account
4) Response Time Monitoring
Pro: logs & graphs: every minute (24hrs), hourly (7days), daily (2yrs)
Free: logs & graphs: every 3-minutes (24hrs), daily (2days)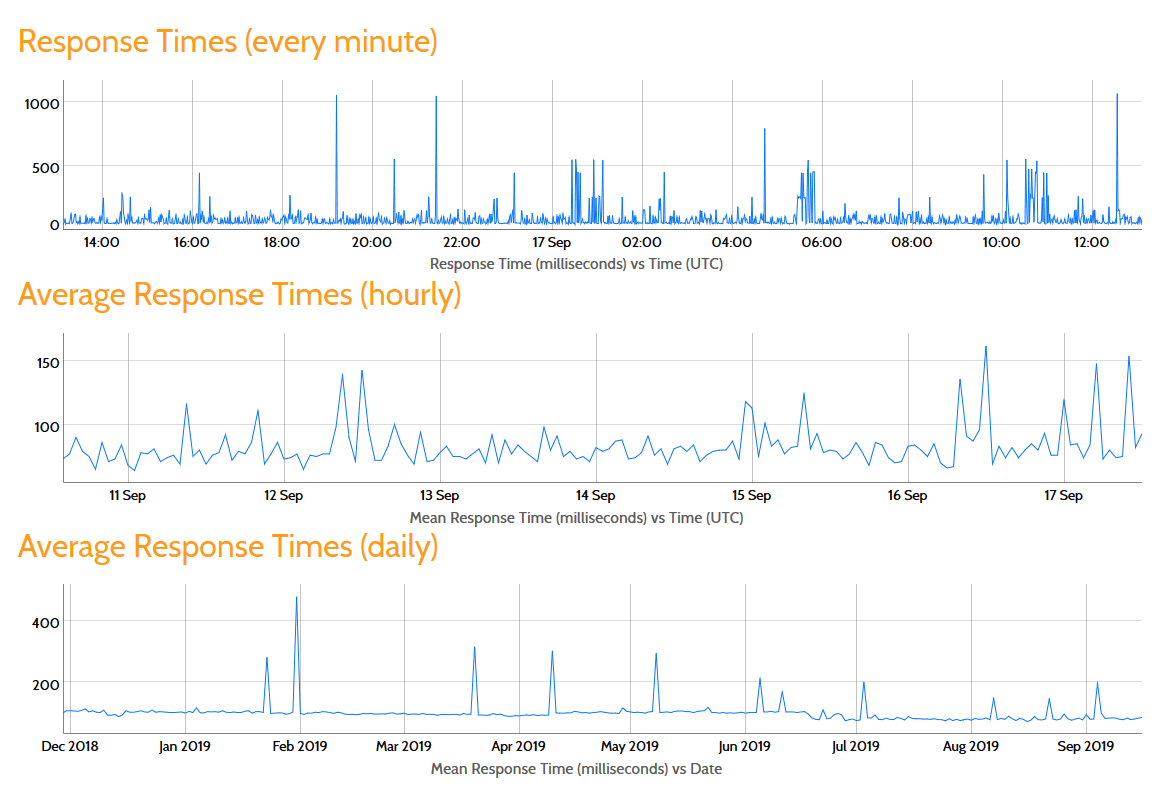 Pro Response Time Graphs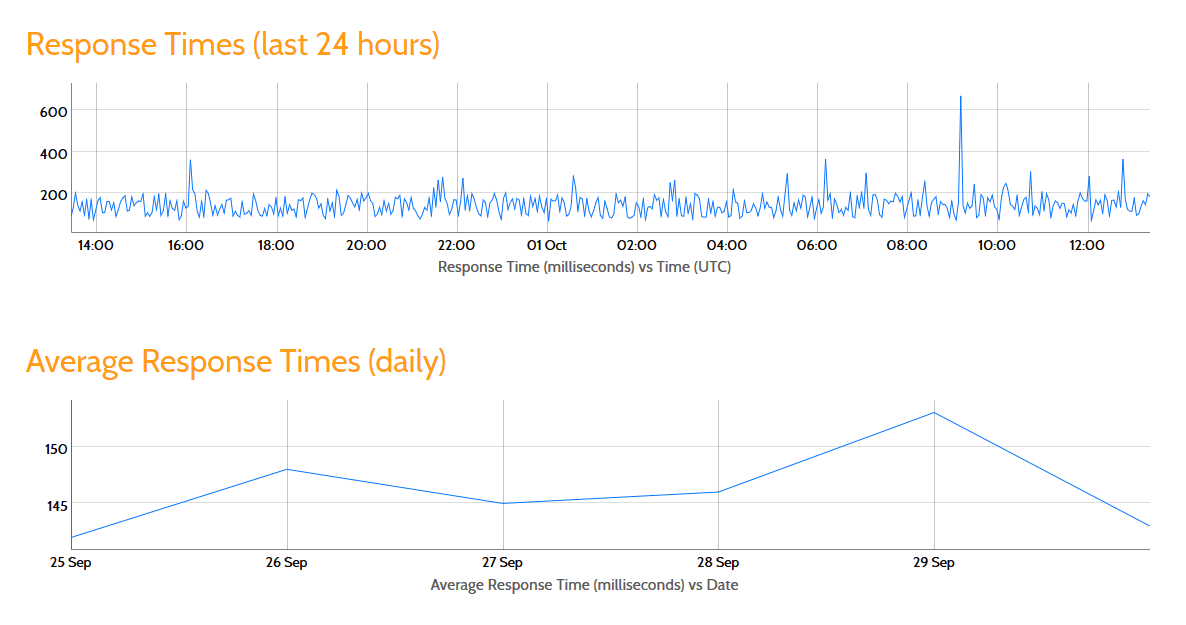 Free Response Time Graphs
Response Time Monitoring Explained
When Downtime Monkey sends a request to a website, it records the time the site takes to respond.
This means you can tell whether your site is running quickly or slowly.
You can view records of past response time in the form or pretty graphs and you can also see each individual response time.

Pro Advantages
Response times logged every minute
Hourly average response times
Daily average response times for 2 years - see long term patterns
5) Content (Keyword) Monitoring
Pro: monitor websites for content changes
Free: not available

Pro Content Monitoring Settings

Pro Content Monitoring Logs
How Content Monitoring Works
You supply a keyword phrase from your website. Downtime Monkey checks the source code of the webpage to make sure that it contains the keyword phrase that you have supplied.
If the site is up but the keyword phrase isn't there - an alert is sent.

Pro Advantages
Get alerted if the content of your website changes unexpectedly
Catch on-page errors such as database errors
Catch hacked websites where the attacker replaces your content with their own
Content monitoring logs for 2 years
6) Bulk Manage Monitors
Pro: bulk add monitors, bulk import from CSV, bulk edit settings, bulk delete
Free: not available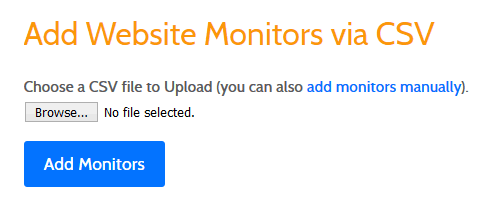 Pro Bulk Import Monitors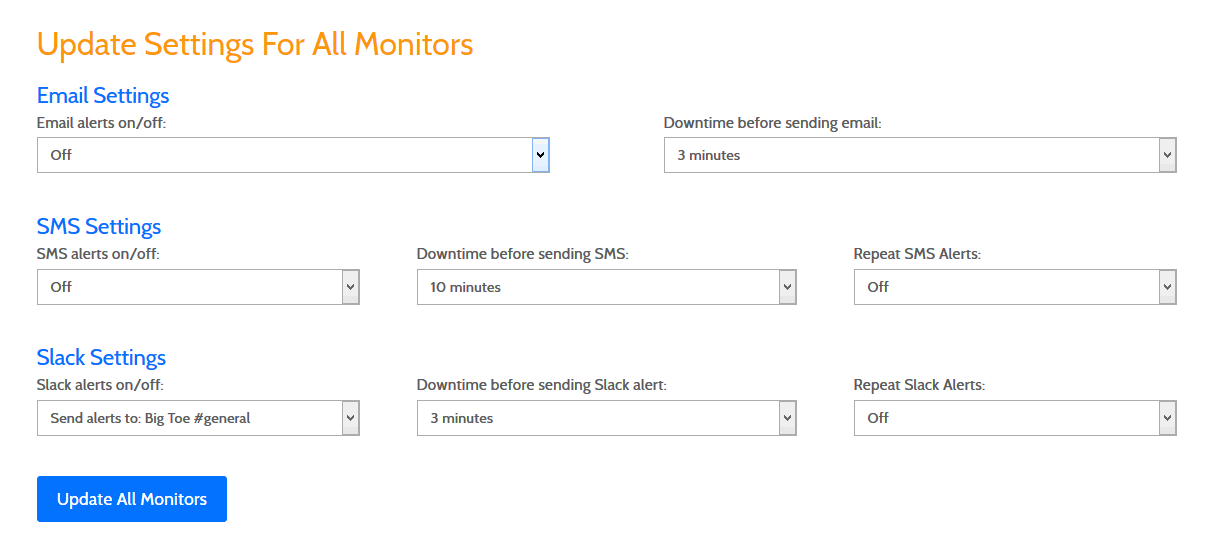 Pro Bulk Edit Monitor Settings

Pro Bulk Delete Monitors
Save Time
Pro users can bulk manage their monitors. This is a great time saver for users who manage a lot of monitors.
Multiple monitors can be added at once either using a comma separated list or importing from a CSV file. All monitor settings can be changed at once with the bulk edit feature.

Pro Advantages
Save time when managing multiple monitors
Add, edit and delete monitors in bulk
7) Monitoring Frequency
Pro: every minute
Free: every 3 minutes
Downtime Monkey checks that sites are up by sending an http request to the website and checking the response is correct.
Websites on Pro plans are checked every minute while websites on the Free plan are checked every 3 minutes.

Pro Advantages
Downtimes observed faster
More accurate uptime stats & logs
More frequent response time logging
Get alerted quickly when your site goes down
8) Number of Websites
Pro: flexible plans to monitor from 1 to 1000 websites
Free: up to 60 websites
All Pro plans, no matter how small, have all the Pro features. The price of a Pro plan is dictated by the number of websites you can monitor.
Pro plans are: 1, 10, 30, 50, 100, 150, 200, 300, 400, 500, 750 and 1000.

Pro Advantages
Monitor more than 60 websites
Monitor fewer than 60 websites with all the Pro features
9) Free SMS Alerts
Pro: free SMS credits, reduced price extra SMS credits
Free: not available
Pro users with annual subscriptions receive free SMS credits on sign-up.
Pro1 = 5, Pro10 = 10, Pro30 = 25, Pro50 = 30, Pro100 = 40, Pro150 = 50, Pro200 = 60, Pro300 = 80, Pro400 = 100, Pro500 = 120, Pro750 = 160, Pro1000 = 200.
Pro users can purchase extra credits at reduced prices.

Pro Advantages
Free SMS credits for annual subscriptions on sign-up
Reduced prices on extra credits