Budget Website Monitoring Comparison
We have compared every available website monitoring service by price. A comparison of each service was made by:
1) the price of the cheapest Pro plan
2) the price to monitor 10 websites
3) the price to monitor 100 websites
You can skip straight to the results or read on to see how we ranked the sites...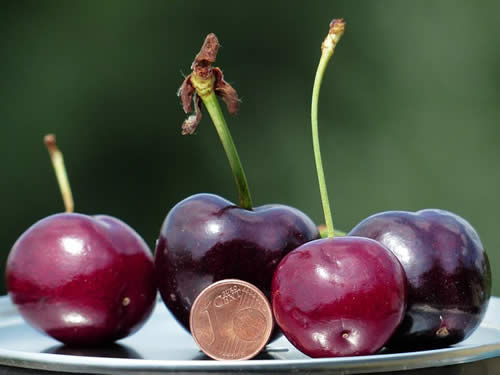 Ranking by Cheapest Pro Plan
Sites were ranked according to their cheapest available Pro plan. We haven't included Free plans in the comparison, however here is a feature comparison of Free vs Pro plans which shows the kind of features to expect from a decent Pro plan.
US dollars were used for the comparison. For sites that only accept other currencies, prices were converted by the exchange rate on Google Finance on 5th June 2019.
Where a cheaper price was available by paying yearly, the annual cost divided by 12 was used for comparison.
Price, Features & Quality
This is a price comparison article.
However... it is worth remembering that price is not the only factor to take into account when choosing a website monitoring service (or any service).
Features and quality are also important. We haven't reviewed these here because feature reviews can be very subjective. Since we provide one of the website monitoring services in the comparison it is vital that the results are unbiased. Therefore we chose a measure that was hard to argue with - price.
That being said we did notice that the price of the service seems to be totally uncorrelated to the quality and features provided. Some of the cheapest services provide higher quality than other more expensive competitors. On the flip side, some of the cheap options are very poor indeed!
But we'll let you decide on quality yourselves... here are our website monitoring plans including the full list of features.
Below are the top 10 sites or skip straight to the full list...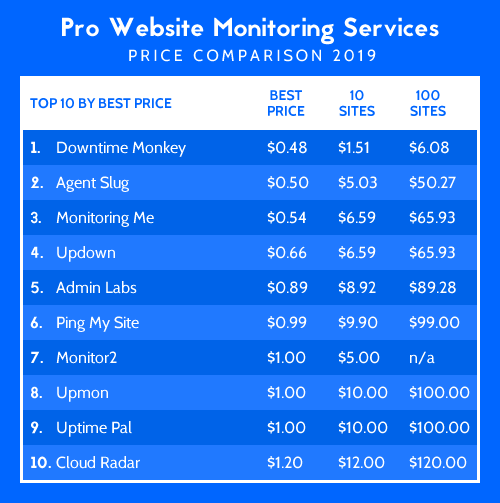 Which Monitoring Sites Were Included?
Initially we viewed every website monitoring service available online - there were 158 at the time of writing!
We excluded very expensive services, sites that clearly had problems and any monitoring software that needed installation on your server. This reduced the number of sites considerably - 55 monitoring services made it through to the final results.
Cheap Monitoring Only
Sites with a cheapest plan costing $10/month or more were excluded since they can't be considered low-price.
Free plans were not included because we wanted to compare applications with Pro features. We'll be providing another comparison of free website monitoring very soon.
Also excluded were "Pro" plans that don't provide anything more than the average Free plan. For example, "Pro" plans with monitoring intervals of 5 minutes or alerts only available via email were not included. We've previously written a blog post that shows the kind of features you can expect from a Micro Pro monitoring service.
Sites which don't provide prices on their website or which require the customer to contact them to receive a price weren't included either.
Working Sites Only
We excluded a few sites that clearly have problems: if the site didn't load, the SSL certificate was invalid or Google warned us that it contained malware then we didn't include it.
Also, we didn't include sites that are in Beta testing.
External Monitoring Services Only
This comparison is for external monitoring services, so we didn't include software that requires installation on the customer's server.
Results
The results, with prices shown in US dollars per month and sorted by price, lowest first...