Superpowered Slack...
Downtime Alerts to Slack
Get a notification message sent directly to your Slack workspace if your website goes down...
And another when the site comes back online.

Why Slack?
Slack is a great way to receive downtime notifications because:
It's super fast - once sent, Slack notifications are received almost instantly (email can take a few minutes).
It's great for teams - when a downtime alert is sent, everyone signed-up to the Slack channel will be notified.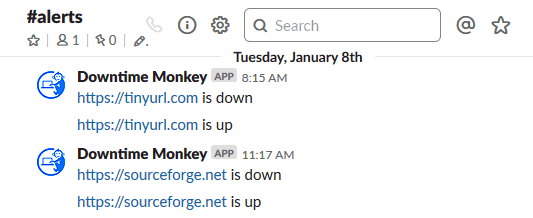 Slack Notification Features
Choose a Slack channel to receive alerts
Set alert notifications to be sent the instant a website is detected down, or...
Set alert delays - notifications will only be sent if a site stays down for x minutes. Options are: 1, 3, 5, 10, 15, 30 or 60 minutes
Repeat notifications can be sent if a site stays down for y minutes. Options are: 10, 20, 30 minutes or 1, 2, 3, 6 12 or 24 hours
There is no limit to the number of notifications that can be sent, but you can...
Rate limit alerts - set the maximum number of downtime notifications per hour. Options are: 3, 5, 10, 20, 50 notifications per hour
Send test alerts - for peace of mind you can manually send a test alert to check your Slack account is correctly connected
1 Minute Setup
- Login to your Downtime Monkey account
- Go to Slack Settings and click the 'Add to Slack' button
- Select a Slack channel and click 'Authorize'
- Update your monitors or add some new ones
- You'll see a choice to turn Slack alerts 'on' or 'off'

Total Privacy
At Downtime Monkey your privacy is critically important to us.
Our Slack App only asks for the minimum permissions that it needs to work: to confirm a user's Slack workspace and post to a specific channel on Slack.
We can't view any of your Slack messages... and we don't want to!