We've just released another major new feature - global monitoring locations!
We now provide website checks from 6 locations worldwide: Australia, Canada (east), Germany, India, UK and USA (west). Read on to see how it works, why it's useful and how to get started...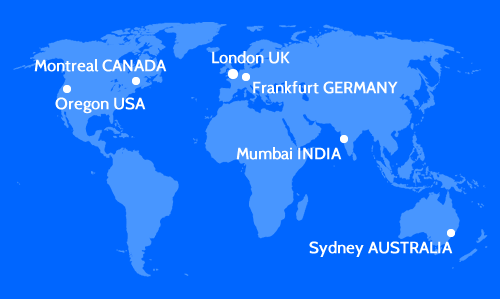 How Does Global Monitoring Work?
We monitor all sites from our main server in the UK. A request is sent to the website that is being monitored and if it responds as 'down' then Downtime Monkey checks the site again from servers based in the monitoring locations around the globe.
If these requests also respond as 'down' then we can be sure that the site is down. Downtimes will be logged and alerts will be sent.
If at least one of these requests responds as 'up' then the downtime is overruled and the site is marked as 'up'.
Just one? Yes! Read on to find out why...
Website Down vs Network Down
If a website is actually down at the server then it will respond as 'down' no matter where you try to access it from.
However, sometimes a website appears down (when it is actually up) because the network is down between the server and the location that requests the site. "Ahhhhh - the internet is down!" :)
In this situation the website will appear down from certain locations but up from others. All the 'down' responses are false positives and should be overruled.
No False Alerts & More Accurate Uptime Stats
The major benefit of monitoring from multiple locations around the globe is the prevention of false positive alerts.
With global monitoring you'll only get alerted when it really matters!
Global monitoring also makes your uptime stats more accurate - false positives are ignored in a website's stats and logs.
Setting Up Global Monitoring Locations
1) Login to your Downtime Monkey account and select 'Locations' from the top menu.
2) Under 'Your Locations' check the boxes next to the locations that you wish to monitor from. Then click 'Update Locations'.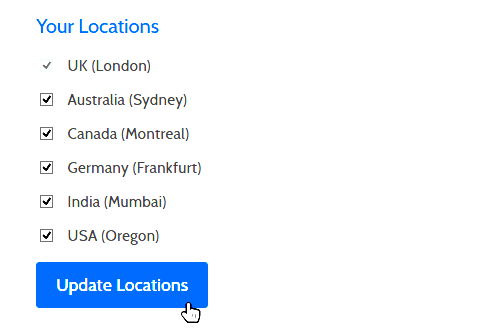 That's all... were you expecting more? All your monitors will now be checked from these locations.
Off By Default
Global monitoring locations are off by default.
Some of our customers use IP address whitelisting on their servers and it was deemed important not to add checks from global IP addresses without an active decision from the customer.
IP Addresses of Global Servers
If you use IP address whitelisting on your server and want to add global monitoring simply add the relevant IP addresses from the list below:
13.239.127.181 Australia (Sydney)
52.60.202.11 Canada (Montreal)
3.120.66.176 Germany (Frankfurt)
13.235.107.253 India (Mumbai)
52.26.56.164 USA (Oregon))
Privacy & Your Data
To maximise privacy, no personal information is sent to remote servers.
The only data that is sent to servers outside London UK is the URL of the website that is being monitored and an ID which enables the main server to process the result.
Also, no information is stored on remote servers. The remote servers have no database and simply return the results to the main server.
New to Downtime Monkey? Get started here... you'll be monitoring in under 2 minutes!
Ryan Glass, lead developer at Downtime Monkey and director of Big Toe Web Design gives us the recipe for his ideal downtime alert setup...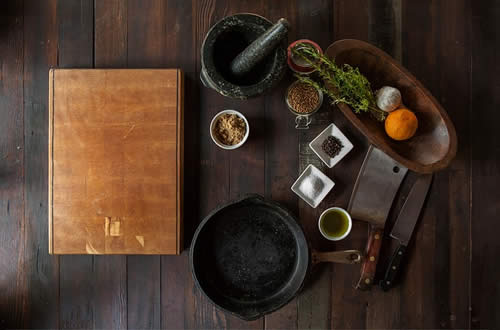 Back in 2017, you originally developed Downtime Monkey as an in-house tool before making it available to the public. Do you still use it?
Yes! At Big Toe we use it for all our website monitoring.
As well as building sites, we manage the hosting of our client's websites and we monitor these to make sure that they are up and running round the clock.
How important is uptime to your clients?
That depends on the site/client. We maintain a range of sites - from simple static sites for small businesses, to e-commerce sites and more complex web apps.
We have three different 'tiers' of hosting and use a different hosting provider for each 'tier'. I assume that any client who pays for mid-range or high-end hosting considers uptime vital.
Do you use the same monitoring setup for all websites?
No - we set a different alert schedule for each tier:
For sites with budget shared hosting we set email and Slack alerts to be sent if the site stays down for 3 minutes, and SMS alerts if the site remains down for 10 minutes.
For sites using the high-end shared hosting there is a 99.9% uptime guarantee so we set email and Slack alerts to be sent if the site stays down for 2 minutes, and SMS alerts if the site remains down for 5 minutes.
For sites on VPSs and dedicated servers the host boasts 100% uptime although in reality it's a tiny bit short of this so we schedule email, Slack and SMS alerts if the site stays down for 1 minute.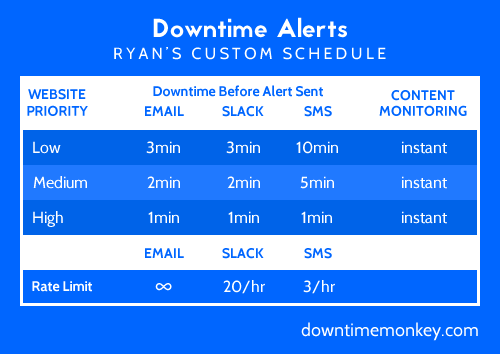 Why the longer alert delay for SMS compared to email and Slack?
That's down to lifestyle!
During working hours I'm at my desk most of the time so I'll usually see emails and Slack alerts as they come through. I set these alerts on a short delay so I'll get notified quickly if a site goes down.
However, if I'm in a meeting or at evenings/weekends I'll have emails turned off but I will get text messages. I don't want to be interrupted unless it's really important, hence the longer delay on SMS alerts.
Why do you duplicate email and Slack alerts if you set them to the same schedule?
There are a couple of reasons for this...
First, Slack alerts go to our team channel so if I miss an alert for some reason, say I'm completely off-grid, Jayne should have it covered.
Second, it is a good idea to have duplication when it comes to alerts. Email clients occasionally have problems and the Slack servers have, on rare occasions, gone down. However, the chances of both these things happening at the same time is incredibly low.
What other features do you use in your alert setup?
Rate limiting of alerts is useful for us...
We monitor websites for 30-40 clients and if a server goes down we could have 20 sites go down at once.
For email alerts this isn't a problem but I don't want 20 text messages to come through at the same time!
So I set the SMS rate limit to 3 alerts per hour - if I get 3 messages with sites on the same server going down I can be pretty confident that the server is down. To confirm this I'll log into Downtime Monkey and check the real-time display. Once the problem is fixed I'll usually keep one eye on the real-time display for the rest of the hour.
I also rate limit Slack alerts but not so harshly - the Slack limit is set at 20 alerts per hour.
Anything else alert related?
We use content (keyword) monitoring across the board too. If the content of a site changes unexpectedly I want to know!
The most common cause of this is a database problem. Then the page just shows errors on a white screen.
Another cause of content change is that the site has been hacked and the attacker has replaced the content with their own.
Thankfully, both of these problems are rare but if they do happen, we want to know immediately so all content monitoring alerts are sent instantly.
We have compared every available website monitoring service by price. A comparison of each service was made by:
1) the price of the cheapest Pro plan
2) the price to monitor 10 websites
3) the price to monitor 100 websites
You can skip straight to the results or read on to see how we ranked the sites...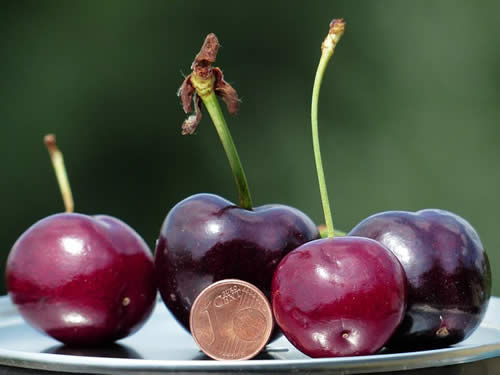 Ranking by Cheapest Pro Plan
Sites were ranked according to their cheapest available Pro plan.
US dollars were used for the comparison. For sites that only accept other currencies, prices were converted by the exchange rate on Google Finance on 5th June 2019.
Where a cheaper price was available by paying yearly, the annual cost divided by 12 was used for comparison.
Price, Features & Quality
This is a price comparison article.
However... it is worth remembering that price is not the only factor to take into account when choosing a website monitoring service (or any service).
Features and quality are also important. We haven't reviewed these here because feature reviews are very subjective. Since we provide one of the website monitoring services in the comparison it is vital that the results are unbiased. Therefore we chose a measure that was hard to argue with - price.
That being said we did notice that the price of the service seems to be totally uncorrelated to the quality and features provided. Some of the cheapest services provide higher quality than other more expensive competitors. On the flip side, some of the cheap options are very poor indeed!
But we'll let you decide on quality yourselves... here are our website monitoring plans including the full list of features.
Below are the top 10 sites or skip straight to the full list...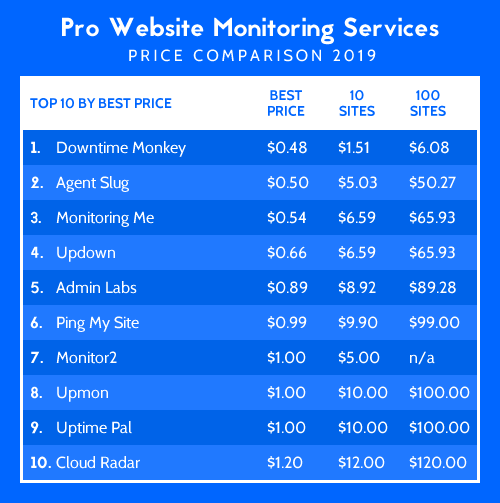 Which Monitoring Sites Were Included?
Initially we viewed every website monitoring service available online - there were 158 at the time of writing!
We excluded very expensive services, sites that clearly had problems and any monitoring software that needed installation on your server. This reduced the number of sites considerably - 55 monitoring services made it through to the final results.
Cheap Monitoring Only
Sites with a cheapest plan costing $10/month or more were excluded since they can't be considered low-price.
Free plans were not included because we wanted to compare applications with Pro features. We'll be providing another comparison of free website monitoring very soon.
Also excluded were "Pro" plans that don't provide anything more than the average Free plan. For example, "Pro" plans with monitoring intervals of 5 minutes or alerts only available via email were not included. We've previously written a blog post that shows the kind of features you can expect from a Micro Pro monitoring service.
Sites which don't provide prices on their website or which require the customer to contact them to receive a price weren't included either.
Working Sites Only
We excluded a few sites that clearly have problems: if the site didn't load, the SSL certificate was invalid or Google warned us that it contained malware then we didn't include it.
Also, we didn't include sites that are in Beta testing.
External Monitoring Services Only
This comparison is for external monitoring services, so we didn't include software that requires installation on the customer's server.
Results
The results, with prices shown in US dollars per month and sorted by price, lowest first...
Update 18 June 2019:
The server upgrade took place today and was successful. There was no downtime throughout the migration which took place between 9am and 2pm UTC and monitoring was unaffected.
For a short period around 1.30pm UTC some functionality of the website (e.g. the ability to set up a new account or new monitors) was disabled.
Everything is now running on the shiny new server which is more secure and faster than ever!
The Downtime Monkey server is due to be upgraded - amongst other things this upgrade will bring the server onto the latest operating system. This update is essential for keeping the Downtime Monkey server secure and reliable in the long-term, and there should be performance improvements too.
The upgrade will take place at approximately 9am (UTC) on Tuesday 18th June. We're aiming for a seamless migration without any interruption to service.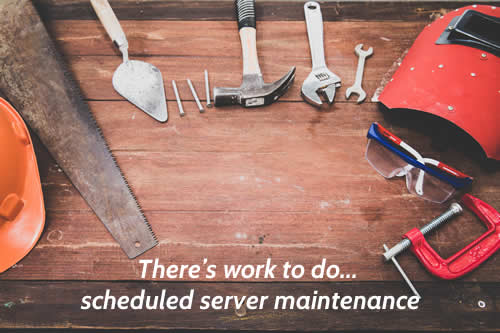 The IP address of Downtime Monkey will change after the upgrade - the new IP address will be 217.146.95.83
For most users the IP address change won't effect you - no action is required and Downtime Monkey will continue to work as it always has.
However, if you whitelist our IP address on your server it is recommended to add the new IP address to your whitelist before the migration on Tuesday 18th. Once the migration has taken place you can safely remove the old IP address (94.76.195.166) from your whitelist if you wish to do so.
Our Free Plan allows monitoring of up to 60 websites. So why would you want to pay for a Pro Plan if you only need to monitor a few websites?
1) The kick-ass features available only to Pro users.
2) These Micro Pro Plans are so cheap they are almost free! Don't believe us? Check out the prices here or view this in-depth price comparison article.
Read on to see the kick-ass Pro features that are most useful for micro users...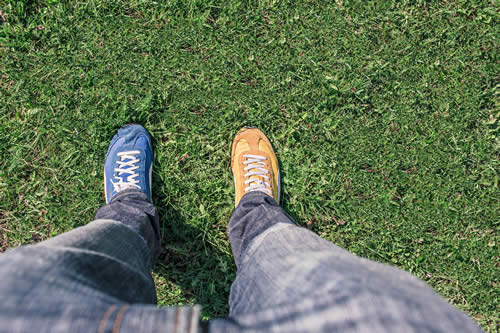 Content Monitoring (Pro Only)
If the content (text) of your website changes Downtime Monkey will send you an alert.
Content monitoring helps protect against hacked websites where the website content is replaced but the site technically stays up.
It also catches on-page errors that would otherwise be missed by uptime monitoring. For example, a database error that outputs a blank page with an error message would be missed by uptime monitoring but will be caught by content monitoring.
Custom Alert Times (Pro Only)
Custom alert times allow you to decide when alerts are sent.
For example, you can set alerts to be sent only if a site remains down for 5 minutes.
Options are: instant, 1, 2, 3, 5, 10, 15, 30 or 60 minutes.
Records Of Individual Downtimes (Pro Only)
Every downtime that occurs, whether an alert is sent or not, is logged and the record can be viewed.
The downtime record includes: the exact time and date the downtime began and ended, the duration of the downtime, the http response and a brief description of the cause of the downtime.
These details can really help you to find and fix website problems.
Advanced Uptime Stats (Pro Only)
Pro users can view uptime stats with an accuracy of 3 decimal places (e.g. 99.999% uptime) for each monitor for up to 2 years.
Uptime stats are available for 24hrs, 7 days, 30 days, 90 days, 1 year and 2 years.
Advanced Response Time Graphs (Pro Only)
Pro users have access to in-depth response time graphs. Graphs are available for:
Individual response times (every minute) for 24 hours.
Hourly average response times for 7 days.
Daily average response times for 2 years.
1 Minute Checks (Pro Only)
Websites are monitored every minute for Pro users, as opposed to every 3 minutes for Free users.
All of the above features are as useful for monitoring 1 website as for monitoring 1000. So if you want premium website monitoring at an astonishingly low price our micro Pro Plans are for you. However, if saving pennies is most important to you then the Free Plan is the best option.
Since the new year we've released a bunch of new features and plans. The total number of Downtime Monkey users has increased by over 50% and the number of websites being monitored has more than doubled.
So we've taken the last few weeks to relax, kick-back and take it easy catch up with some maintenance.
We've reduced memory use of clean-up scripts, automated the addition of free SMS credits upon sign-up and applied a bugfix to our Slack App.
Read on to see the details...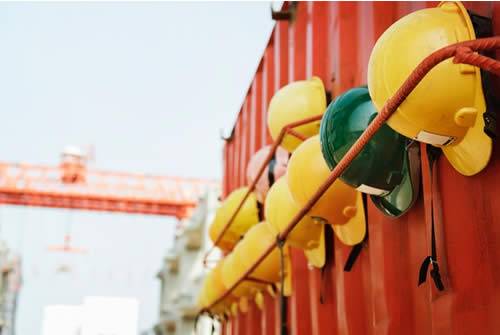 Automation of Free SMS Credits On Sign-up
All Pro Plans that are purchased yearly come with free SMS credits (e.g. Pro1000 users get 200 free credits and Pro1 users get 5 free credits).
In the spirit of moving fast we sometimes do things that don't scale... and applying free credits was a case in point.
In order to ship our payment system quickly we used to add free SMS credits to a customer's account manually.
We would get notified of a new sign-up and within a few minutes we could add the credits to the account.
However, as things are now scaling-up it makes sense to automate this kind of thing... so we did. People now receive their free SMS credits instantly upon sign-up.
Improvements to Clean-Up Scripts
Downtime Monkey records the response times of monitors every minute. This means that we add a lot of rows to the database - 1440 rows per website per day to be precise!
To stop the database growing to the size of a small galaxy we regularly need to delete the old response times from the database.
This is done by a clean-up script which automatically runs once a day.
However, a few weeks ago the amount of data to delete became too much which meant the script hit its memory limit and stopped running. This wasn't a major problem (memory limits are in place for a reason) and Downtime Monkey continued to function just fine. However, it meant that the database grew to a gazillion rows in a few days.
This was easily fixed - we manually deleted the old response times and re-wrote the clean-up script to be much more efficient with memory.
Slack App Bugfix
One of our new(ish) features is the ability to receive downtime alerts in Slack.
To make the user experience as easy as possible we developed our Slack App so that everything can be managed in Downtime Monkey. You can connect to your Slack account, manage your alert settings and disconnect from your Slack... all on the Downtime Monkey website.
We missed something though: the possibility that someone might delete the Downtime Monkey Slack App directly in Slack while leaving alerts turned on in Downtime Monkey.
Needless to say, this did happen...
The result was that when the user's website went down the Slack alert was prepared as usual but failed to send. No problem so far...
However, the alert remained in a queue and repeat attempts to send it were made every minute.
This wasn't ideal. Lots of errors were logged and the server was loaded unnecessarily.
So we fixed it - now if a Slack alert fails for this reason the alert is deleted from the queue and Slack alerts are turned off for the user.
...now live!
UPDATE - 30 April 2019 - Beta testing has been successfully completed and content monitoring is now fully live :)
We've just rolled out another major new feature - website content monitoring. If the content of your website changes unexpectedly, Downtime Monkey will alert you.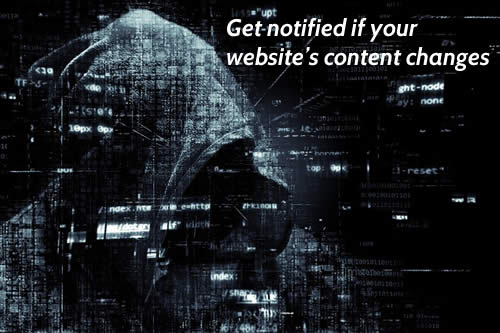 How Content Monitoring Works
A request is sent to the webpage and the source code of the webpage is checked to make sure that it contains a keyword phrase that you have supplied. If the phrase isn't found then the site will be recorded as "down: keywords not found" and alerts will be sent.
This works well as a complement to standard downtime monitoring, catching some website problems that would otherwise be missed...
Catch On-Page Errors
Most of the time when a website goes down the result is an http error. For example, "404 Page Not Found" or "503 Service Unavailable". These errors are caught by Downtime Monkey's downtime monitoring - no problem!
However, sometimes when a site goes down an http error is not produced. Instead the webpage is served with a normal response of "200 OK" and the error is printed on the otherwise blank page.
Database Problems
When a database problem occurs this usually produces an on-page error - an example is when a database is overloaded and the error is shown: "SQL Error: Too many connections[1040]". This is common on busy forums: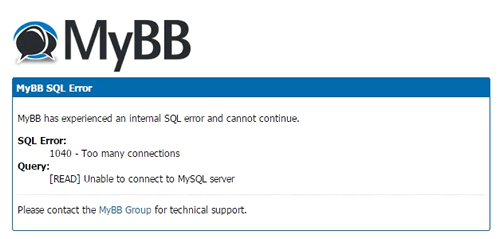 Memory Limits Exceeded
When a script's memory limits are exceeded this also produces an error on-page - this is common in heavy content management systems such as WordPress: "Fatal error: Allowed memory size of xxxxx bytes exhausted":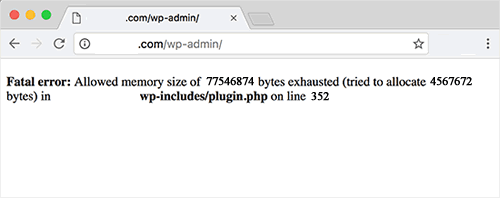 These are just a couple of examples from a multitude of possible on-page errors - content monitoring will catch them all!
Catch Hacked Websites
It's a sad state of affairs but attacks on websites are now an everyday occurrence. Attackers regularly take over sites and replace the page content with their own, often malicious, content.
Content monitoring can catch this and send you an alert, so you'll get notified and can restore your website right away.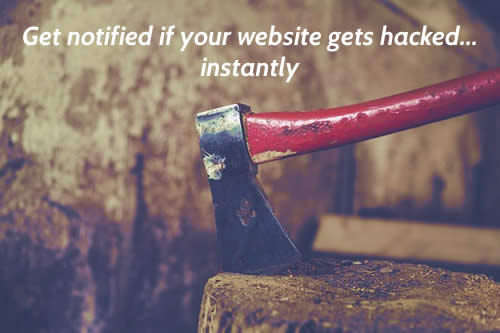 Getting Started With Content Monitoring
It's really easy to set up content monitoring for your site - get started in less than a minute:
1) Login to your Downtime Monkey account (content monitoring is a Pro feature so you'll need to be on a Pro Plan).
2) Add a new monitor (skip this step if you want to add content monitoring to an existing monitor).
3) Go to your monitors, scroll to the monitor of your choice and click the monitor settings icon.
4) Select "On" from the "Keyword monitoring on/off" dropdown menu.
5) In the "Keywords" field, input an exact match phrase from your webpage.
5) Click update monitor - that's all!
Minimising Load To Your Server
One of the aspects that we spent a lot of time on when developing the feature was minimising the load to your server.
Unlike downtime monitoring, content monitoring requires that the webpage content is downloaded each time a check is made. This uses bandwidth and when considering the frequency of the checks it was important to take some steps to minimise this load:
1) Websites are monitored every 3 minutes (as opposed to every minute for downtime monitoring). This reduction in monitoring frequency reduces bandwidth by 1/3.
2) Only the source code (i.e. the text) of the website is downloaded. Images, video and other heavy content is ignored.
3) Where the website server permits, only the first 5KB of the page is accessed. However, not all servers are configured to allow partial page loads but where they do we take advantage of the savings in bandwidth.
4) When the website server doesn't permit partial page loads the page size is limited to a maximum of 50KB. This was a big decision for us as it means that some very heavy webpages won't be able to use this feature. However, we were also aware that we needed to place a limit as some sites have huge pages (over a MB of code) and owners of these sites probably won't want the load on their server to go through the roof. The limit of 50KB corresponds to roughly 50,000 characters of source code and when we surveyed a bunch of websites we found that 96% of sites either used less than this or allowed partial page loads.
Alerts
Alert settings for content monitoring are the same as the settings that are in place for downtime monitoring. If you already have alerts set to email, SMS or Slack then no need to change anything - you'll receive these alerts for both downtime and content monitoring.
Alerts are of the form: "URL is down: keywords don't match" or "URL is up: keywords match" so that you can tell right away that the alert is for content monitoring.
Rate limits that you have set for SMS and Slack alerts also apply to content monitoring - if you have a rate limit set the total number of alerts per hour won't exceed this.
Custom alert delays (e.g. only send alerts if a site is down for 2 minutes) don't apply to content monitoring. Alerts are sent instantly when a content mismatch is found - this is because content mismatches are an indication of a serious problem that usually doesn't self heal, so you'll get notified ASAP.
Content Monitoring Logs
All content monitoring records are logged and can be viewed on a monitor's stats page, along with the start time, end time, duration and explanation for the event.
Content monitoring events aren't included in the overall uptime stats for the site as content monitoring is treated separately from downtime monitoring.
A Short Period Of Beta
This feature is now live and will undergo a short period of Beta testing over the next few weeks.
Beta testing has now been completed successfully - this feature is live in full production.
If you have any questions check out the Content Monitoring FAQ.
Finally, a big thank you to all the people who submitted feature requests for this - you have really helped us to improve Downtime Monkey!
UPDATE - 7th June 2019 - Downtime Monkey's micro Pro plans top the list in the 2019 Website Monitoring Price Comparison.
Last night we rolled out some new very inexpensive Micro Pro Plans.
We've always provided a basic Free Plan alongside Pro Plans which have powerful features and allow monitoring of many websites.
However, we recently received requests from users who monitor only a few websites but wanted smaller, cheaper Pro Plans with the same useful, advanced features as the bigger Pro Plans.
So we have introduced new Pro1 and Pro10 micro plans.
We expect they'll be popular with small businesses and individuals who want the very best monitoring service at an incredibly cheap price...
Introducing Pro1 & Pro10 Plans
The Pro1 plan is for users who only need to monitor one website and the Pro10 enables monitoring of up to 10 sites.
Both these plans come with exactly the same features as the larger Pro Plans.
Features like: access to detailed records of all downtimes (including explanations of why each downtime occurred), monitoring of webpage content (keywords), and the ability to hold alerts until a website remains down for a specified time.
The plans start at just $0.48/month (€0.43/month or £0.36/month).
Payments are available in 158 currencies worldwide so whether you live in Vancouver, Sydney or Timbuktu you can pay in your home currency and be sure that there won't be any surprise conversion fees.
To see the kick-ass features that most benefit Micro Pro users check out this post.
A big thank you to everyone who provided feedback on this - you've helped us improve Downtime Monkey!
It's spring cleaning time at Downtime Monkey which, for us, means bug-fixing.
In our last post we described how we fixed an edge-case bug which showed up in rare circumstances.
Here are the details of our latest fix...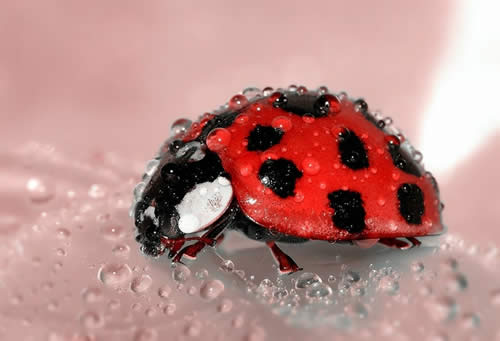 URLs With Forced Trailing Slashes
It was brought to our attention by one of our new users that they couldn't add some URLs as monitors. The common theme was that the URLs all had trailing slashes, i.e. https://example.com/.
The other commonality was that these trailing slashes were forced. The webpage wouldn't show without the slash, instead the user was redirected to the URL with the slash.
What was the cause?
When you add a new website monitor, Downtime Monkey first checks that the URL is valid and then visits the site to check that it is up and doesn't redirect to another webpage. This prevents people adding monitors with typos and helps keep Downtime Monkey's monitoring efficient.
We also check that a new monitor isn't a duplicate. To do this we stripped trailing slashes - the logic being that http://example.com and http://example.com/ are effectively duplicate webpages.
However, this proved a little overzealous because sites with forced trailing slashes failed the redirect validation... and therefore couldn't be added as monitors.
More than an edge-case
Although websites with forced trailing slashes are not very common, there are plenty of them out there and we should have picked-up on this earlier.
Also, there is no-doubt that we would have missed this for longer if it hadn't been brought to our attention - so a big thank you to the user who let us know!
Easy Fix
As is the case with a lot of bugs: once we were aware of it, the bug was easily fixed. We simply don't strip trailing slashes as part of URL validation any more!