**UPDATE **
The comparison for 2022 has been completed. You can skip straight to the results for 2022, view the results for 2021, 2020 & 2019, or read on to see how we ranked the sites...
We compared every available website monitoring service by price. A comparison of each service was made by:
1) the price of the cheapest Pro plan
2) the price to monitor 10 websites
3) the price to monitor 100 websites
We then calculated the average price per monitor which we used for the rankings.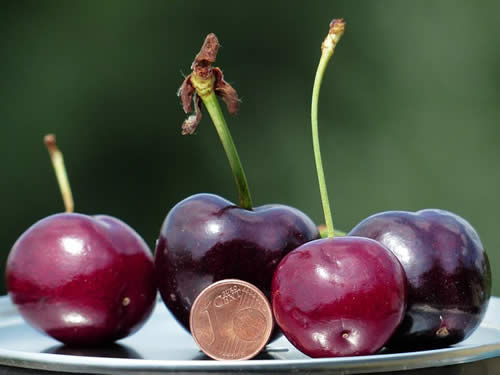 Ranking by Average Price Per Monitor
In the past (2021 and before) sites were ranked according to their cheapest available Pro plan. This worked fine but we noticed that it favoured services that have a fixed price per monitor. These are usually cheap if you want to monitor a single site but quickly become expensive as the number of monitors increases.
This year we have calculated the average price per monitor by simply dividing each price by number of monitors and then taking the average. This gives a more balanced ranking which factors in both bigger and smaller plans.
We haven't included Free plans in the comparison, however here is a feature comparison of Free vs Pro plans which shows the kind of features to expect from a decent Pro plan.
US dollars were used for the comparison. For sites that only accept other currencies, prices were converted by the exchange rate on Google Finance on 08 Feb 2022.
Where a cheaper price was available by paying yearly, the annual cost divided by 12 was used for comparison.
Price, Features & Quality
This is a price comparison article.
However... it is worth remembering that price is not the only factor to take into account when choosing a website monitoring service (or any service).
Features and quality are also important. We haven't reviewed these here because feature reviews can be very subjective. Since we provide one of the website monitoring services in the comparison it is vital that the results are unbiased. Therefore we chose a measure that was hard to argue with - price.
That being said we did notice that the price of the service seems to be totally uncorrelated to the quality and features provided. Some of the cheapest services provide higher quality than other more expensive competitors. On the flip side, some of the cheap options are very poor indeed!
But we'll let you decide on quality yourselves... here are our website monitoring plans including the full list of features.
Below are the top 10 sites or skip straight to the full list...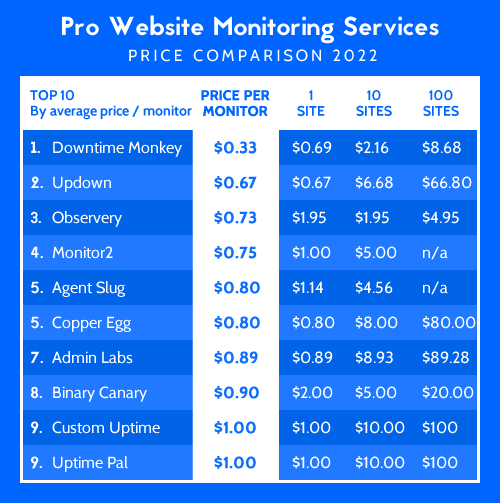 Which Monitoring Sites Were Included?
Initially we viewed every website monitoring service available online - there were 202 at the time of writing!
We excluded very expensive services, sites that clearly had problems and any monitoring software that needed installation on your server. This reduced the number of sites considerably - 41 monitoring services made it through to the final results.
Cheap Monitoring Only
Sites with a cheapest plan costing $10/month or more were excluded since they can't be considered low-price.
Free plans were not included because we wanted to compare applications with Pro features.
Also excluded were "Pro" plans that don't provide anything more than the average Free plan. For example, "Pro" plans with monitoring intervals of greater than 1 minute, with alerts only available via email or with monitoring from only one location were not included.
Sites which don't provide prices on their website or which require the customer to contact them to receive a price weren't included either.
Working Sites Only
We excluded a few sites that clearly have problems: if the site didn't load, the SSL certificate was invalid or Google warned us that it contained malware then we didn't include it.
Also, we didn't include sites that are in Beta testing.
External Monitoring Services Only
This comparison is for external monitoring services, so we didn't include software that requires installation on the customer's server.
2022 Results
Again, some interesting trends in the website monitoring space were illuminated by this year's results...
Even More Monitoring Services: the total number of website monitoring services has continued to increase despite several services shutting up shop: 158 in 2019, 170 in 2020, 185 in 2021 and 202 in 2022.
But Fewer Quality Services: the total number of services that made the final results decreased from 55 in 2019 to 41 in 2020, recovered slightly to 46 in 2021 and returned to the low point of 41 in 2022. The main reason for this trend is an increased number of new services that offer paid plans with only free plan features.
Prices Largely Unchanged: following large price increases in 2020 and moderate increases in 2021 it was interesting to see that prices remain largely unchanged across the industry this year.
2021 Results
For sites that only accept currencies other than US dollars, prices were converted by the exchange rate on Google Finance on 23rd April 2021.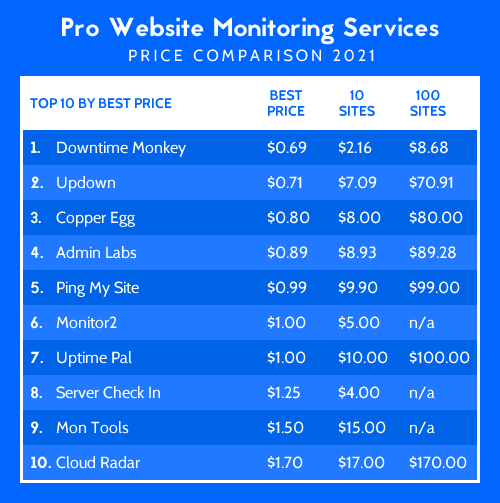 2020 Results
For sites that only accept currencies other than US dollars, prices were converted by the exchange rate on Google Finance on 3rd March 2020.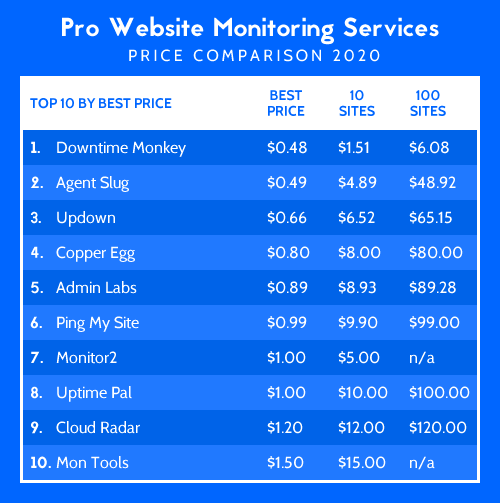 2019 Results
US dollars were used for the comparison. For sites that only accept other currencies, prices were converted by the exchange rate on Google Finance on 5th June 2019.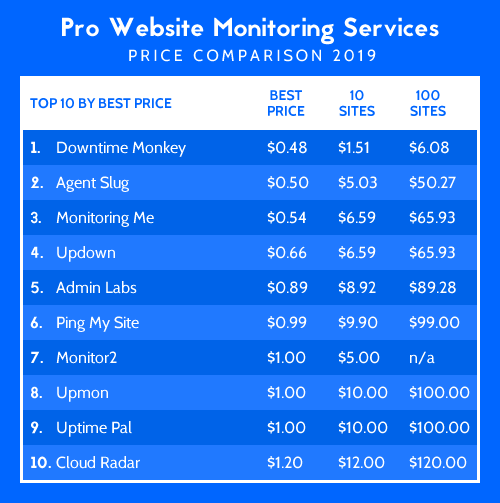 **Update 17th June 2021** Scheduled maintenance was completed successfully today.
The work to upgrade the local network of our main server went well and was compleled faster than expected, in under 10 minutes. However, one issue occurred during the maintenance and some false positive downtime alerts were sent out to customers during this time (6am to 6.08am UTC) - these can safely be ignored.
Our main server's local network is scheduled for maintenance on 17th June 2021 at 6am UTC.
Our Upstream Provider will replace a top of rack switch with newer generation hardware capable of 40G networking. This is expected to take 15-20 minutes.
Although our server will remain running during this time the network will be down. Therefore our services will be paused for the duration of the maintenance and will resume immediately after maintenance is completed.
We hate downtime as much as anyone and we've had 100% uptime for over a year now so really dislike our perfect record being reduced.
However, we realise that this maintenance is essential and look forward to the performance benefits it will bring. Thanks for your patience with this.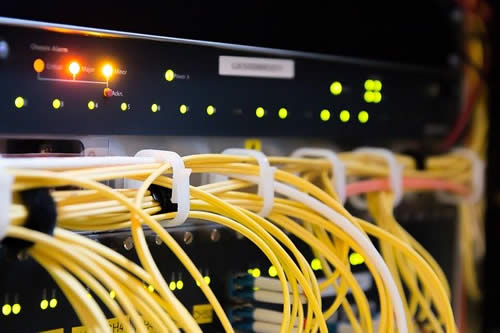 We've updated the phone number that sends text alerts to US customers to a new 10DLC number. You don't need to do anything, but if you're in the US you'll notice your SMS alerts come from a new number.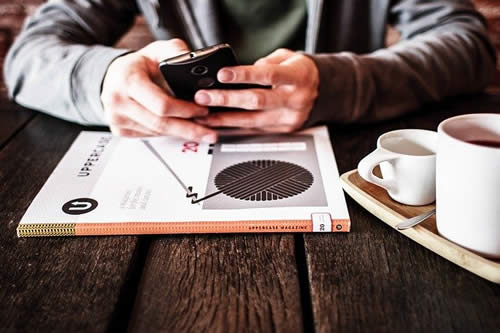 What Is 10DLC?
10DLC stands for '10 digit long code'. In layman's terms it's a phone number that is ten figures long.
These numbers are the new standard for 'application to person' text messages, where a message is automatically sent to a person by a computer.
Why The Change?
The 10DLC standard has been created to combat text message spam while allowing legitimate automated text messages to be received. It's not a regulation as such, in that it's not enforced by government. It's a standard set by US phone carriers, such as AT&T, T-Mobile etc.
Either way, it was essential for Downtime Monkey to get onboard to make sure our US text alerts continue to be received round the clock. So we've changed our US number to a 10 digit US toll free number - it's already in place and working well.
A big thanks to all our Pro Plan customers for keeping Downtime Monkey running, you're awesome!
Downtime Monkey now logs more than 4 million website responses each day. We analysed these to see how fast websites respond in practice.
View the full results below or skip to the sound bites.
1 Million Response Times Analysed
We collected 1 million response times from real websites. Half a million from Pro plans and half a million from Free plans.
We then split these into groups: 0 to 1 second, 1 to 2 seconds, 2 to 3 seconds etc. and then counted the number in each group. For responses slower than 17 seconds a site is considered down.
Here are the results: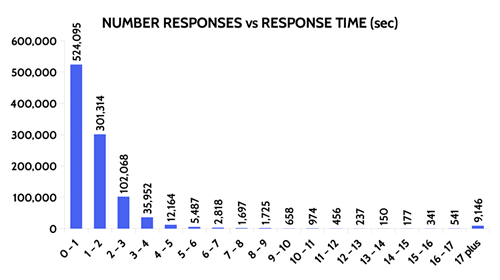 Fastest Websites Analysed
The majority of sites responded within a second, so we took another sample and broke the fastest sites into groups of a quarter of a second.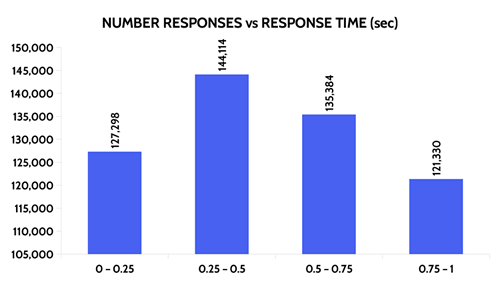 Free vs Pro
The Sound Bites
The fastest 10% of websites respond in under 0.2 seconds.
The average response time is 1.28 seconds.
Over 90% of sites respond within 3 seconds.
Nearly 1% of websites are down at any single moment.
Downtime Monkey has now been monitoring websites for just over 3 years. Since 2017, we have offered a 30% 'early-bird' discount on Pro subscriptions. But this is coming to an end very soon...
30% Discount Locked-in For 3 Years
Don't fret though, you can still access the discount now... but the offer will end in November.
Note that the discount is locked-in for 36 months from the date of purchase so if you buy a Pro Plan today you'll still receive the discount in October 2023.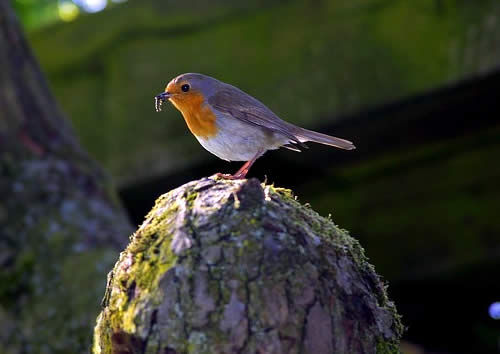 Existing Pro Customers
If you're an existing Pro customer don't worry, you won't lose your discount because it's locked in for 36 months from your original purchase.
However, if you're intending to upgrade it may be worth doing this now to keep your 'early-bird' discount.
A big thank you to all the Pro users who have kept the service going since September 2017!
The stats overview page that we launched in June was very well received. We have followed up on this and developed a similar idea for downtime logs. This went live on Friday and shows downtime records for all your monitors in one place.
Filter Logs
By default, logs of all downtimes in the last 24 hours are shown. This means that you'll immediately see downtimes from any recent outages and get the important details at a glance.
It's possible to show logs for any site individually. This is really handy if you monitor a lot of websites and want to focus in on one particular site.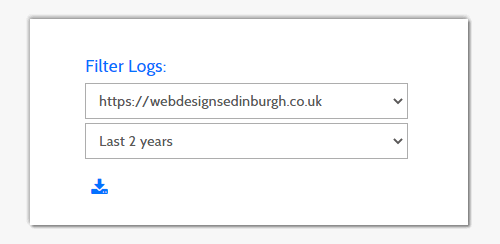 You can also change the timespan to see logs up to 2 years old: options are 24 hours, 7 days, 30 days, 90 days, 1 year and 2 years. You can view logs for all your monitors together for up to 30 days - for more than this select an individual site.
Download Logs
As well as viewing logs you can export logs to a spreadsheet (CSV file) in just one click. This is really useful if you want to send logs to a customer, provide evidence of downtimes to a hosting provider or include logs in a company report.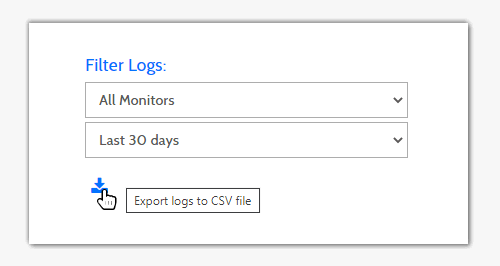 View Timestamps in your Timezone
In every log, timestamps of the start and end of the downtime are shown. These are displayed in your preferred timezone and exactly match the timestamp shown in the corresponding downtime alerts.
This makes it incredibly easy to cross-reference a log with a particular alert as shown in this recent post on timestamps on downtime alerts.
See the Reason For Every Downtime
The HTTP code is shown in each log and you can hover on this to see the cause of the downtime in plain English. This can help you troubleshoot problems and get your website back online quickly.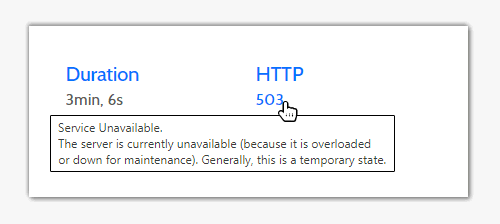 A big thank you to everyone using Downtime Monkey and especially to our Pro users - it wouldn't be possible without you!
We've made a useful improvement to Downtime Monkey alerts. Each downtime alert now includes a timestamp that shows the time that the website went down and each uptime alert includes a timestamp that shows the time that the website came back up.
This turned out to be more work than expected, largely because we thought we'd knock it out in under an hour :)
Although it wasn't totally straightforward to develop, the end-result is incredibly simple to use...
Consistent Timestamps On All Alerts
Each timestamp is consistent across the whole monitoring system. The times shown in email, Slack and SMS alerts are identical to each other and show the time the website was first noted as down.
Note that this is not necessarily the same as the time when the alerts are sent, for example for monitors that are customised to delay alerts until the site remains down for x minutes.

The main benefit is that you'll see exactly when the website was down, at a glance. Also, if you want to see more detail it's easy to find the downtime log...
Timestamps Match Downtime Logs
The time shown in each alert message is also displayed in your preferred timezone and therefore matches exactly the timestamp in your downtime logs.
This makes it very easy to find the corresponding downtime log...

If you'd like to receive timestamps with your downtime alerts and have access to comprehensive downtime logs, check out our Pro Plans.
We've just rolled out another new feature: a 'Stats Overview' area where you can view a summary of the stats for all your monitors at a glance. There have been several requests for this feature from customers who want to view the most important stats for their websites in one place.
Here are the details...
24 hour Uptime Summary
At the top of the page you'll find the uptime summary which shows the number of sites with 'good' uptime and the number of sites with 'low' uptime, over the past 24 hours.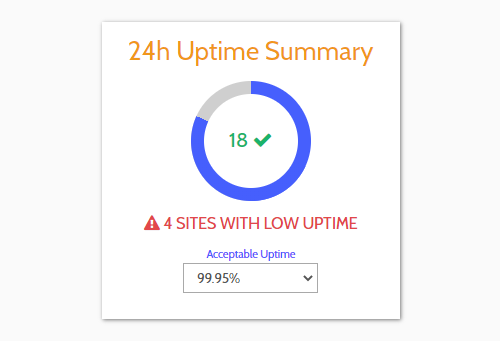 6 hour Speed Summary
Alongside the uptime summary you'll find the website speed summary. This shows the number of sites that are running well and the number of 'slow' sites, based on the average response time over the last 6 hours.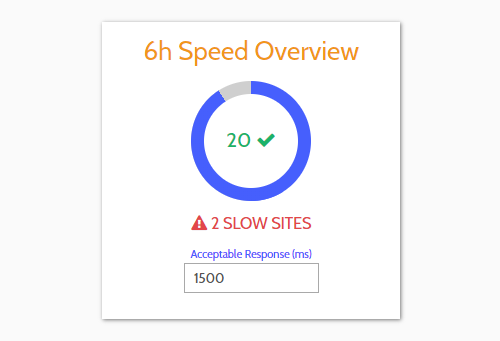 Stats List For All Monitors
Next is a list of all monitors with their pertinent stats and links to in-depth stats and logs. Sites with low uptime and slow sites are listed first so you won't need to scroll to find them.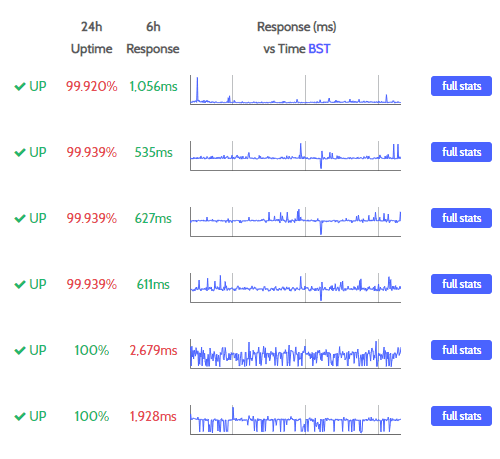 Alongside the stats, you'll see graphs of response times for the last 6 hours. These are interactive so you can view the details of every individual response.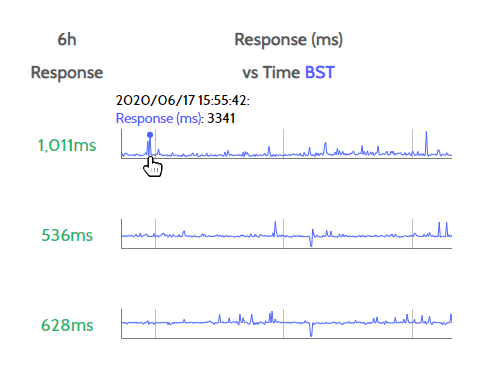 Set Your Timezone
The default timezone to display stats is UTC but it's very easy to change, simply:
1) Navigate to 'locations'
2) Select your preferred timezone from the dropdown menu
All response times and downtime logs will now be shown in the timezone of your choice.
Configure Acceptable Uptime
We realise that what constitutes 'good' uptime is subjective. Therefore we have made the acceptable uptime configurable.
Options are: 99%, 99.5%, 99.9%, 99.95%, 99.99%, 99.995% and 99.999%.
The default acceptable uptime is 99.95%, the average result taken from our acceptable uptime survey, but the choice is yours...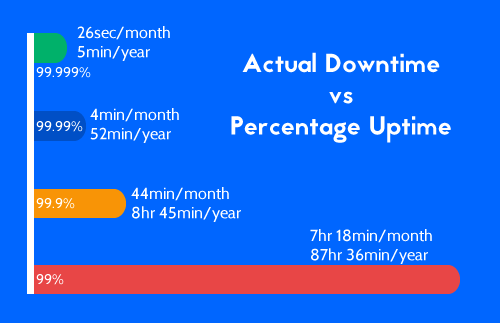 Configure Acceptable Response Time
Again, what constitutes 'slow' response time is subjective so we have made the acceptable response time configurable. You can set any value up to 17,000 milliseconds.
The default is 1,500 milliseconds although we recommend that you set your own value, because response time varies with different websites, servers and locations.
A good way to choose a value is to allow monitors to run for a short period to see what a 'normal' response time is for your websites, and then set the acceptable response time just above this figure. With this method, if a site runs more slowly than usual it will be highlighted as a 'slow' site, enabling you to locate problems before they cause actual downtime.
Note that Downtime Monkey measures response time as 'time to receive headers' which is different from the commonly quoted 'time to first byte'. We believe that time to headers is a better measure of response time because headers are received immediately before the first content is loaded to the web browser whereas the first byte is received some time in advance of this so can give an artificially low result (more info here).
A big thank you to those who have taken the time to submit feature requests - you have helped us improve Downtime Monkey!
On Website Downtime
In early March we noticed an increase in the overall number of downtimes logged at Downtime Monkey. This was when COVID-19 related lockdowns were beginning in many countries so we decided to dig into the data to see if there was a correlation. Here are the results...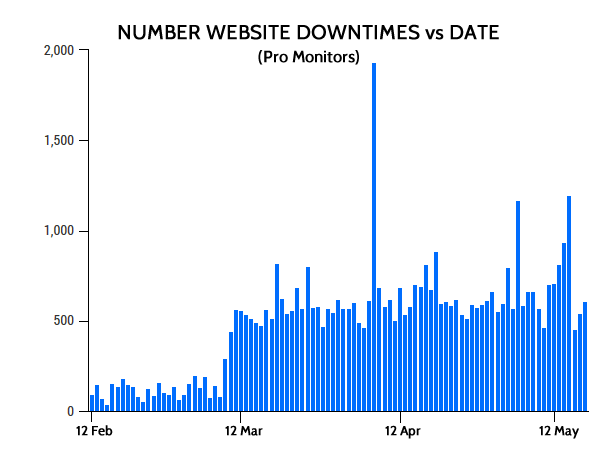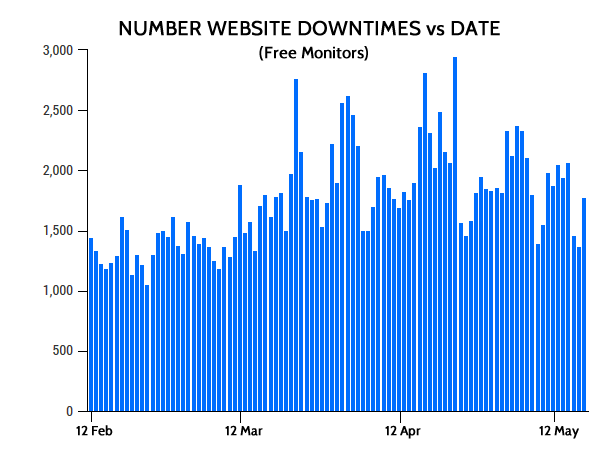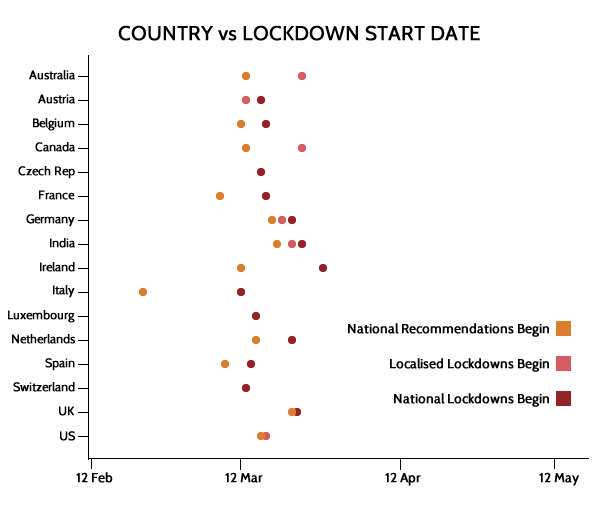 The Graphs
The top two graphs show the total number of downtimes that occurred each day from 12 February 2020 to 18 May 2020 for websites monitored by Downtime Monkey. The top graph shows data from the Pro monitoring service while the second graph shows data from the Free service.
The third graph shows dates that COVID-19 related lockdown measures began in 16 countries.
The Data
Criteria for a 'downtime'
Both Free and Pro services use http monitoring to detect downtimes. Any website that responds with an http response that is not 20x (e.g. 200 OK) is logged as down. Also, if a website doesn't respond within 17 seconds it is recorded as down due to timeout.
Note that for the purposes of this study we haven't distinguished between downtimes of different duration - a site that is down for 1 minute and a site that is down for one hour are each counted as a single downtime.
Sample sizes
Free monitors: approximately 2000 websites submitted by 1000 users located all over the world.
Pro monitors: approximately 700 websites submitted by 40 users located mainly in North America, Europe and Australia/New Zealand.
Note that the number of monitors grew during the study. Specifically, increases of approximately 30% for Free monitors and 25% for Pro monitors occurred.
The increase in Free monitors was fairly linear with a few monitors added most days and the largest number of monitors (66) added on 20 April. The increase in Pro monitors was sporadic, with only 32 days where new monitors were added. The majority of new monitors (223) were added in a single day on 3 April.
Data differences between Free and Pro services
Free monitoring takes place solely from Downtime Monkey's main server in London, while the Pro service provides the option to use some, or all, of our global network of servers to prevent false positive downtimes. Without global monitoring, false positive downtimes can be caused by the network being down between our server in London and the website's server.
It's worth noting that the majority of sites monitored by the Pro service have at least one global server allocated, therefore network problems will have minimal effect on the Pro data while the Free monitoring data will include some false positive downtimes caused by network problems.
Lockdown Start Dates
Lockdown start dates were obtained from the Oxford Coronavirus Government Response Tracker. For simplicity the data was limited to 16 countries that are known to be home to a large number of web hosting servers. A more exhaustive range of lockdown dates by country is shown here.
Conclusion & Discussion
National recommendations and lockdowns largely began between 9 and 24 March.
Pro monitoring results show a very distinct stepped increase in downtimes between 9 and 11 March. As expected Free monitoring results are more noisy, but nonetheless show a significant increase in downtimes between 12 and 23 March.
It can be tentatively concluded that a correlation exists between COVID-19 related lockdown and increased website downtime. It will be interesting to confirm this by revisiting the study as countries gradually remove lockdown measures in the coming weeks and months.
Correlation or Causation?
Although a correlation has been shown it is not possible to prove causation here. However, it doesn't require a huge leap of logic to see that hosting providers may struggle to deal with problems efficiently when working with skeleton staff.