Global Website Monitoring
We've just released another major new feature - global monitoring locations!
We now provide website checks from 6 locations worldwide: Australia, Canada (east), Germany, India, UK and USA (west). Read on to see how it works, why it's useful and how to get started...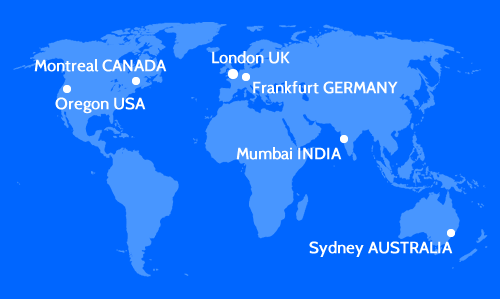 How Does Global Monitoring Work?
We monitor all sites from our main server in the UK. A request is sent to the website that is being monitored and if it responds as 'down' then Downtime Monkey checks the site again from servers based in the monitoring locations around the globe.
If these requests also respond as 'down' then we can be sure that the site is down. Downtimes will be logged and alerts will be sent.
If at least one of these requests responds as 'up' then the downtime is overruled and the site is marked as 'up'.
Just one? Yes! Read on to find out why...
Website Down vs Network Down
If a website is actually down at the server then it will respond as 'down' no matter where you try to access it from.
However, sometimes a website appears down (when it is actually up) because the network is down between the server and the location that requests the site. "Ahhhhh - the internet is down!" :)
In this situation the website will appear down from certain locations but up from others. All the 'down' responses are false positives and should be overruled.
No False Alerts & More Accurate Uptime Stats
The major benefit of monitoring from multiple locations around the globe is the prevention of false positive alerts.
With global monitoring you'll only get alerted when it really matters!
Global monitoring also makes your uptime stats more accurate - false positives are ignored in a website's stats and logs.
Setting Up Global Monitoring Locations
1) Login to your Downtime Monkey account and select 'Locations' from the top menu.
2) Under 'Your Locations' check the boxes next to the locations that you wish to monitor from. Then click 'Update Locations'.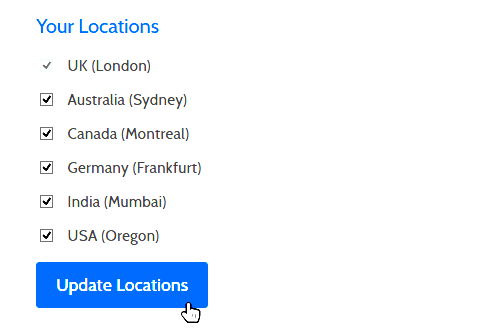 That's all... were you expecting more? All your monitors will now be checked from these locations.
Off By Default
Global monitoring locations are off by default.
Some of our customers use IP address whitelisting on their servers and it was deemed important not to add checks from global IP addresses without an active decision from the customer.
IP Addresses of Global Servers
If you use IP address whitelisting on your server and want to add global monitoring simply add the relevant IP addresses from the list below:
13.239.127.181 Australia (Sydney)
52.60.202.11 Canada (Montreal)
3.120.66.176 Germany (Frankfurt)
13.235.107.253 India (Mumbai)
52.26.56.164 USA (Oregon))
Privacy & Your Data
To maximise privacy, no personal information is sent to remote servers.
The only data that is sent to servers outside London UK is the URL of the website that is being monitored and an ID which enables the main server to process the result.
Also, no information is stored on remote servers. The remote servers have no database and simply return the results to the main server.
New to Downtime Monkey? Get started here... you'll be monitoring in under 2 minutes!